Description
ADDRESS: Barista Campus Hungary - 1136 Budapest Hollán Ernő u. 3.


(Jászai Mari square, tram 4-6, in Madal Cafe building)

More info (dates): +36-70-458-4464 I 
Technical info.:
 +36-20-281-9675  
To apply please use the "Add to Cart" button.
Barista Campus is the largest and one of the best equipped barista training centers in Hungary. Our team is made up of barista trainers, who had practiced for years and who already won several prices in different barista competitions. Our barista trainings go beyond the Italian coffee culture and are based on the "new-wave coffee" approach, influenced deeply by the present third wave American and Western-Europian coffee culture.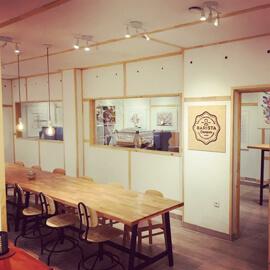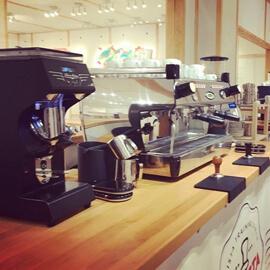 Day I. (10.00-18.00)
I. Introduction to Coffee / Kávés Alapismertetek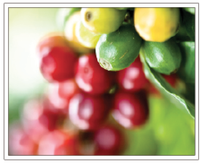 GREEN COFFEE /A ZÖLD KÁVÉ
VARIETIES / A KÁVÉ FAJTÁI
SOIL / TALAJ
HARVESTING / BETAKARÍTÁS
PROCESSING / FELDOLGOZÁS
Dry processing / Száraz eljárás
Wet Processing / Nedves eljárás
Pulped natural / Természetes pépesítés
Drying / Szárítás
Storage / Raktározás
Defective Coffee / Hibás kávé
Dry Mill / Szárazmalom
Seasons of harvest / A kávé szüret szezonjai
BUYING COFFEE / A KÁVÉVÁSÁRLÁS
COFFEE GROWING REGIONS / KÁVÉ TERMŐTERÜLETEK
SOUTH AMERICA / DÉL-AMERIKA
Brasil, Colombia...
CENTRAL AMERICA / KÖZÉP-AMERIKA
Guatemala, Costa Rica, El Salvador...
AFRICA / AFRIKA
Kenya, Ethiopia...
ASIA / ÁZSIA
Myths / Legendák
ROASTING / PÖRKÖLÉS
THE ROASTING PROCESS / A PÖRKÖLÉSI FOLYAMAT
INSIDE THE ROASTER / A PÖRKÖLŐGÉPBEN
AFTER ROASTING / A PÖRKÖLÉS UTÁN
DEGREE OF ROAST / A PÖRKÖLÉS MÉRTÉKE
Light Roast / Világos pörkölés
Medium Roast / Közepes pörkölés
Dark Roast / Sötét pörkölés
BLENDS / KÁVÉKEVERÉK
PACKING / CSOMAGOLÁS
PROPER STORAGE / HELYES TÁROLÁS
THE HISTORY / A KÁVÉ TÖRTÉNETE
ETHIOPIA, ARABS / ETIÓPIA, ARABOK
THE 3 WAVES / A KÁVÉ 3 HULLÁMA
ESPRESSO IN ITALY / AZ ESPRESSO ITÁLIÁBAN
THE PERFECT CUP / A TÖKÉLETES CSÉSZEÉLMÉNY
COFFEE TERMINOLOGY /
A KÁVÉ SZAKNYELVE
CUP TASTING /
KÁVÉ KÓSTOLÁS
SCAA Standards /
SCAA Standardok
II.Espresso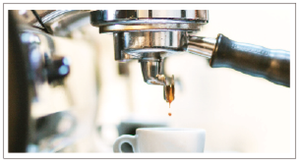 EXTRACTING ESPRESSO / AZ ESPRESSO KIVONATOLÁSA
The Barista / A barista szerepe
The Grinder / A kávéőrlő szerepe
The Espresso Machine / Az espresso gép szerepe
GRINDING FOR ESPRESSO / ŐRLÉS AZ ESPRESSO-HOZ
Use Fine Grind / Miért szükséges a finom őrlés?
DOSING AND DISTRIBUTION / ADAGOLÁS ÉS ELOSZLATÁS
Grooming Methods / Tisztázási módszerek
TAMPING / TÖMÖRÍTÉS
How to Tamp / Hogyan végezd a tömörítést?
WATER TEMPERATURE / A VÍZ HŐMÉRSÉKLETE
Multi-Boiler Machines / Multiboileres gépek
Heat-Exchange Machines / Hőcserélős gépek
THE WHOLE PROCESS / A TELJES FOLYAMAT
Step by Step / Lépésről lépésre
ESPRESSO IN ITALY VS. NEW WAVE / ESPRESSO ITÁLIA VS. ÚJHULLÁM
ESPRESSO BREWING MASS / ESPRESSO KIVONATOLÁSI MENNYISÉG
Ristretto, Espresso, Lungo
Day II. (10.00-18.00)
Folytatás az előző napról / Continued from previous day.
III.Milk based coffees
I
Tejes kávé italok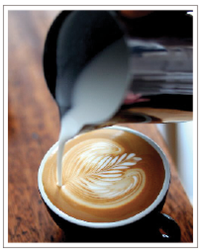 MILK STEAMING / A TEJ GŐZÖLÉSE
Milk Steaming Goals / A tejgőzölés céljai
Milk Separation / A Tej szétválása
How to Steam Milk / Tejgőzölés
Different Milk Beverages / A különböző tejes italok
Grooming Milk / A tej tisztázása
MILK POURING / A TEJ KIÖNTÉSE
Free-Pouring / A free-pouring technika
How to Pour Latte Art / Hogyan készíts Latte Art-ot