Referral program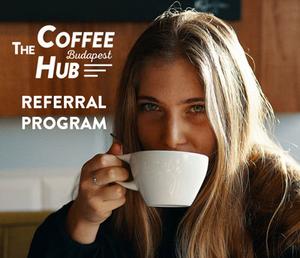 Our referral program allows you to recommend the products of our webshop (our coffees, teas..) to your friends. We give each registered partner in our web store a unique ID number that you can use in links sent to your friends.
Based on this, the store can record from who a sales came from and that the buyer was sent to the website by an affiliate (referral) partner. In return, we, as the owner of the webshop, will pay you a 1000 point (1000 HUF) redeemable commission for each new partner's sale you generate.
In your customer account you will find up-to-date information on how many visitors and customers you have brought to our webshop, and as a result, how much commission you can expect.
HOW IT WORKS?
First, you need to be a registered customer who is already registered on our site. Once you have it, simply log in to your client account: Click the login icon on our coffeehub page. Then I need to click on the affiliate menu item in my account.
Below you will see a link that you can copy and send to your friends and acquaintances, eg via email, messenger or any other form. The link contains your ID. Eg: http://coffeehub.hu/?p_id=19027 / IMPORTANT: check that the link contains your ID before sending it out!
By clicking on the link you received, if your friend enters our webshop and makes a purchase there in any amount, a credit of HUF 1,000 will automatically go to the recommender, ie to you!
No matter how many friends you make, you get 1000 HUF for every friend you buy.
In your account, you can see in the affiliate menu item who made your purchases with us with your recommendations (after the purchases, we will credit you with HUF 1,000 in the form of a coupon that can be purchased).