4 DAY - Professional Barista Course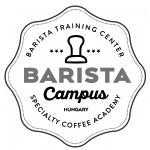 Advanced and beginner barista courses.
Barista Campus is one of the largest and best equipped barista training centers in Hungary. Our team is made up of barista trainers, who had practiced for years and who already won several prices in different barista competitions. Our barista trainings go beyond the Italian coffee culture and are based on the "new-wave coffee" approach, influenced deeply by the present third wave American and Western-Europian coffee culture.
We hold our barista courses in hungarian language. For more info. please call: +36-20-281-9675
Amennyiben már egy ideje szemezel a barista tanfolyamokkal, akkor bizonyára már észrevetted, milyen sokféle szolgáltatás áll a rendelkezésedre. Ha ez most egy személyes beszélgetés lenne, akkor azt tanácsolnánk Neked, hogy első körben azt döntsd el, milyen mélységekig szeretnél elmerülni a kávékészítés tudományában. Egy átfogó képzésre vágysz, ahol minden fontos alapanyagot és technikát megismerhetsz? Akkor a 4 napos barista oktatás Számodra is nyerő választás lehet. 4 nap persze hosszú idő, éppen ezért, akik ezt a tanfolyamot választják, általában nagyon kíváncsiak arra, hogy mire számíthatnak ez idő alatt. Mi úgy gondoljuk, hogy egy barista oktatás csak akkor lehet sikeres, ha egy jól átgondolt struktúra alapján történik a tanulás.
Emiatt minden nap más-más téma kerül fókuszba, és csak akkor haladunk tovább, ha kellőképpen kielemeztük, és gyakorlatban is megmutattuk azokat a fogásokat, technikákat, amik nélkülözhetetlenek ahhoz, hogy az adott kávéital igazi ínyencség legyen. Az általunk kínált barista oktatás azonban nem hagyományos képzés, ahol a tanárok beszélnek, mutogatnak, a jelenlévők pedig árgus szemekkel figyelnek. Mi profi eszközparkot bocsátunk a résztvevők rendelkezésére, és 100%-ban bevonjuk őket minden eseménybe, ami a helyszínen zajlik. Mivel egy gyakorlati szakmáról van szó, ezért a legátfogóbb ismeretanyag sem ér semmit, ha nem társul mellé tapasztalatból szerzett tudás. Ha úgy döntesz, hogy jelentkezel hozzánk, akkor megígérjük, hogy kézen fogunk, és bevezetnünk a kávékészítés minden rejtelmébe.