Description

Performance at home
"GS" stands for its saturated brew group (gruppo saturo). The GS3 is ideal for those who wish to extend excellence to include a supreme cup of coffee – whether in small restaurants, boutique hotels or at home in the kitchen, a must for the perfectionist and espresso coffee enthusiasts.
    Professional-grade espresso equipment, built for the home.
The La Marzocco engineering group set out to take the most advanced La Marzocco technology and translate it for a home espresso machine. The GS3 features the thermal stability system used in the La Marzocco Strada, including a preheating system, digital PID controller, saturated groups, a dual-boiler system, and digital display. The mechanical paddle version enables the barista to saturate the coffee with low pressure (line pressure) water before applying the full 9 bars of pressure. These features make for a luxury espresso preparation platform: everything you could hope for as someone who wants to enjoy the best-quality espresso at home.
All that's left for you to do is to grind, dose, and tamp.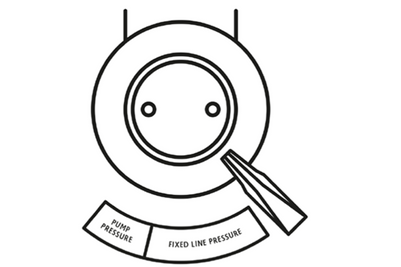 This dynamic system allows the barista to control the variable of pre-infusion and reduce channeling for a more balanced extraction.
Engineering
    Exposed Saturated Group: increased temperature stability, ergonomics and workspace visibility.
    Dual Boiler System: separate boilers for each group optimize espresso brewing and steam production.
    Internal Pump: makes the GS3 ideal for the home.
    Dual PID (coffee and steam): allows you to electronically control coffee and steam boiler temperature.
    Insulated Boilers: reduce energy consumption while contributing to temperature stability.
    Ruby Flow Restrictors: synthetic ruby flow restrictors resist scale formation and erosion.
    Pre-heating System: prior to entering into the coffee boiler, water is pre-heated – thus increasing productivity.
Ergonomics
    Stainless Steel Portafilters & precision baskets: for improved cup quality and consistency.
    Digital Display: temperature display, shot timers, flow pulse counter and intuitive programming simplifies the adjustment of machine parameters.
    Water Reservoir: an integrated 3.5 liter water tank makes plumbing optional.
    Hot Water Economizer: fine tune the temperature of the hot water spout.
Options
    Machine Operation: automatic (AV) and mechanical paddle (MP) versions.
    Glass Panels: personalize your GS3 with tempered glass side panels.

Specifications